Highlights
Awarded $23.6 million in grants and direct charitable activities in FY2014.

Investment portfolio in line with target allocation.

Returns exceeded benchmarks, returning 12.7% for the year.
Dear Friends and Colleagues,
Momentum also continues for Piper Trust's investments. The portfolio returned 12.7 percent for the year, well ahead of benchmarks, and ending fair market value of investments was $554.4 million.
The target asset allocation remained the same and with the able assistance of Cambridge Associates, the Trust's investment committee worked to ensure that investment managers continued to perform in accordance with their mandates and to operate effectively and in accordance with the law. The private investment portfolio was expanded and after seven years is now in line with its target allocation and generating cash flow. We truly appreciate our dedicated investment committee members: Trustees Jim Bruner, chair, Paul Critchfield, Art DeCabooter, Laura Grafman, and Steve Zabilski along with outside members Dr. Jeffrey Coles, Jacque Millard, and Kent Misener.
The audit committee also continued its dedicated work to ensure that the Trust's financial operations are complying with best practices and again retained CliftonLarsonAllen as independent auditors. The audit report issued in November contained a clean opinion. We are grateful for the work of each audit committee member: Trustees Paul Critchfield, chair, Jim Bruner, and Steve Zabilski, and outside member Frank Brady.
I'm energized by the momentum I see in all facets of the Trust's work—including the health of its endowment. As the Trust evolves with its new charge to serve the community in perpetuity, we will continue to be steadfast in our care and oversight of Virginia Piper's generous gifts.
Financial Results
Results of operations as reported in our audited financial statements are summarized in the following table. The data is presented on a GAAP, therefore accrual, basis. On a cash basis during the fiscal year ended March 31, 2014, grants and direct charitable activities were more than $23.6 million, and exceeded $62.6 million over the three-year period. Each year operating and grantmaking expenses were in line with the budget approved by the board.
| (Accrual Basis) | 3/31/2014 | 3/31/2013 | 3/31/2012 |
| --- | --- | --- | --- |
| Total Change | $46,393,470 | $16,249,926 | ($31,462,114) |
| (Accrual Basis) | FY2014 | FY2013 | FY2012 |
| --- | --- | --- | --- |
Asset Allocation
The Trust's investment committee worked diligently again this year to ensure that the endowment is invested in a manner that, over the long term, should result in returns that will support its mission. The private investment portfolio was expanded and is now in line with its long-term target and generating cash flow. Actual and target allocations are reflected on the following charts.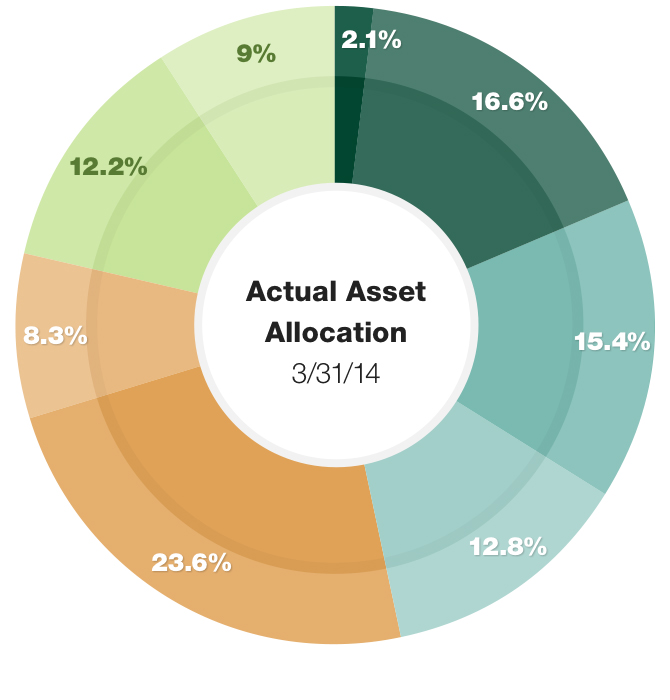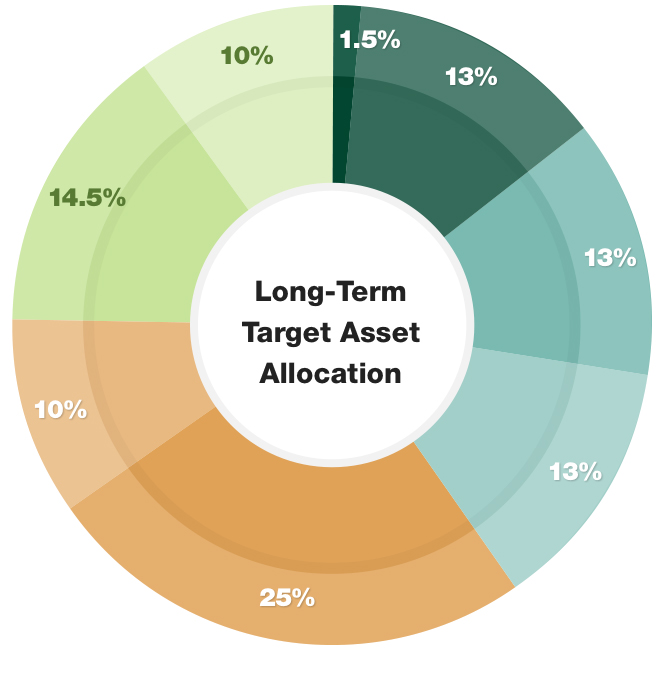 Fair Market Value of Investments and Charitable Expenditures
The blue bars illustrate the fair market value of Piper Trust's investments and the yellow circles show the level of charitable expenditures each fiscal year.